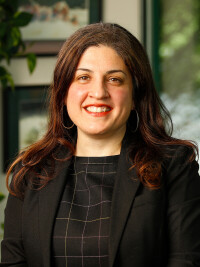 Mary F. Ognibene
Partner
Main Fax: 585.546.7218
About Mary
OVERVIEW
"Clients come to the table with varied backgrounds, motivations and concerns. Our strength in the advisory role is rooted in our ability to listen."
I started law school at age 26, having taken four years off after college to work in a local firm, volunteer abroad and gain clearer insight on the road ahead. I wouldn't trade those years for anything, as they cemented my wide perspective on life and an ability to meet people exactly where they are. I have, in turn, found the key to professional success in my ability to work with a wide variety of people, learning about their backgrounds and discerning their motivations and concerns by actively listening. The unique strength of the advisory role is rooted in that ability to tune in.
Professional Background:
Mary brings a perspective to her practice gleaned from her lifelong interest in people and her desire to serve as an ethical steward of the power structures that frame modern life.
Mary applies that perspective on an everyday basis by diligently working to understand her clients' goals and the circumstances that brought them to her door, walking alongside them to guide them through what is needed. She closely listens to find solutions to her clients' legal issues, using her skills to help solve that problem. She also dives into the context of a problem before she advises clients as to best next steps. While that makes her a terrible hip shooter, it makes her a thorough problem solver and she loves bringing that approach to her clients.
It's easy for Mary to imagine herself in her client's shoes. Being able to empathize has led her to be an asset, owner, and an investor in the MCCM firm.
EXPERIENCE
Mary advises a variety of clients on a wide range of general business matters. Her experience includes:
Representation of clients with regard to the purchase, sale, or merger of, and investment into various types of businesses of ranging size, both domestic and international including manufacturers, physician practices, distributors, consulting practices and farms;
Preparation, review and negotiation of a variety of agreements including consulting agreements, shareholders agreements, limited liability company operating agreements, non-compete agreements, non-disclosure agreements, supplier agreements, distributor agreements, licensing agreements and customer terms and conditions spanning various industries including manufacturing, construction, pharmaceuticals and farming;
Planning for and formation of numerous business entities, including limited liability companies, corporations, professional service corporations and professional service limited liability companies;
Formation of not-for-profit organizations and assistance in the preparation and filing of federal and state applications for tax exemption and state charities registrations; and
Maintenance of corporate governance responsibilities.
HONORS & AWARDS
2023 Finalist, ATHENA International Award
Selected to The Best Lawyers in America®, Business Organizations (including LLCs and Partnerships), Closely Held Companies and Family Businesses Law, and Mergers and acquisitions Law. Recognition by Best Lawyers is based on a peer review process.
2020 Attorneys of the Year Award "Leader in Law" honor, sponsored by The Daily Record Presented to attorneys and judges who demonstrate professional accomplishment, exceptional character, integrity and ethics, and commitment to their clients and the community.
ADMISSIONS
New York State Bar (2004)
EDUCATION
State University of New York at Buffalo School of Law (J.D., 2003)
William Smith College (B.A., cum laude, 1996)
PROFESSIONAL AFFILIATIONS
Monroe County Bar Association, Business Law Section
New York State Bar Association, Business Law Section
COMMUNITY INVOLVEMENT
2022 - 2023 Performer - Lawyers for the Arts Fundraiser, sponsored by Arts Services Initiative of WNY
2021-Present Member of Board of Directors of Rochester Broadway Theatre League
2017 Co-Chair of the Art of Lawyering VLSP Fundraiser
2016 Committee Member, Foundation of the Monroe County Bar Jazz for Justice Fundraiser
SPEAKING ENGAGEMENTS & PUBLICATIONS
"Maximizing Your Business Value with Exit Planning" Co-presenter, 2021 and 2022 ongoing series, WNY Region
Presenter, NYS SHIELD Act Seminar (January, February and March 2020), Co-sponsored by MCCM, Doyle Security Systems, EWASTE+ and CE Technologies, Rochester, NY
Personal
A Rochester-area native, Mary lives in Clarence, New York with her husband, Bob, and three stepchildren. She is a creator and supporter of all things music and art.