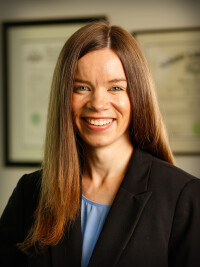 Kristen M. Dombroski
Associate
Main Fax: 585.546.7218
Direct Fax (E-Fax): 585.546.7218
About Kristen
OVERVIEW
"I am prompt, passionate, and willing to listen."
We recognize that the legal process can be daunting for those who are unfamiliar with it—we are here to help. We listen to our client's concerns, offer guidance, and provide legal advice and recommendations tailored toward the client's particular situation.
As an Associate attorney, Kristen dedicates time and energy on her cases, and addresses clients' questions in a prompt manner. It is crucial to provide the best work product for our clients. Kristen strives to provide efficient service for our clients, and to provide the highest quality of work.
Professional Background
Prompted by a Personal Law class she took in high school, Kristen realized that the aspects she enjoyed in the classroom could be part of her own reality. After she completed her law degree, she focused her practice on civil litigation and later became a member of the MCCM team.
Various mentors have shaped Kristen's understanding of law. This pantheon of mentors instilled one of the greatest principles Kristen takes with her to MCCM: to treat all clients with respect.
Kristen's foremost promise to her clients is that she will work hard. From the outside looking in, Kristen understands the value that law firms need to provide for clients: values such as transparency, efficiency, professionalism, and knowledge. Above all, she knows that a law firm should treat their clients with respect.
EXPERIENCE
Kristen focuses her practice on civil litigation. She has represented individuals, employers, and insurance companies in various practice areas, including personal injury, labor and employment litigation, and workers' compensation. She has years of experience analyzing case files, developing litigation strategies, and providing legal recommendations to clients.
ADMISSIONS
New York State Bar (2018)
U.S. District Court, Western District of New York (2022)
EDUCATION
University at Buffalo School of Law (J.D., 2017)
Le Moyne College (B.A., Integral Honors Degree, cum laude, 2014)
PROFESSIONAL AFFILIATIONS
Monroe County Bar Association
Greater Rochester Association for Women Attorneys
New York State Academy of Trial Lawyers
Rochester Women's Network
COMMUNITY INVOLVEMENT
Kristen serves as a board member of the Fairport-Perinton Chamber of Commerce. She also serves as a member of the Le Moyne Green and G.O.L.D. committee. She previously volunteered at Roswell Park Comprehensive Cancer Center in Buffalo. Kristen previously volunteered as a student teacher at the Seymour Dual Language Academy in Syracuse, at the Cathedral Academy at Pompeii in Syracuse, and as a resident student teacher in Roseau, Dominica.
SPEAKING ENGAGEMENTS & PUBLICATIONS
Kristen assisted a University at Buffalo School of Law alumni in his research and preparation of What's in a Name? That Which We Call Surrogate's Court, an article that was published in the July/August 2016 edition of the New York State Bar Association Journal.
Kristen also defended her Integral Honors thesis, and presented at Le Moyne College Scholars Day in Syracuse, and the Medieval and Early Modern Studies Conference in Bethlehem, Pennsylvania.
Personal
A Rochester native, Kristen graduated from Le Moyne College, where she earned an Integral Honors Degree. She majored in English, and had minors in Advanced Writing and Political Science. While in law school at the University at Buffalo School of Law, Kristen served as the Publications Editor of the Intellectual Property Law Journal, participated in the Representation in Mediation Competition, and worked as a student-attorney at Roswell Cancer Institute, through the law school's Health Justice Law and Policy Clinic. She also clerked for a Monroe County Family Court Judge, and at a law firm in Buffalo. After she graduated from law school, she focused her practice on civil litigation. In her spare time, she enjoys reading, running, traveling, and spending time with her friends and family.