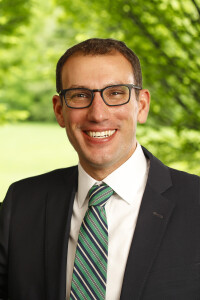 Peter J. Gregory
Partner
Main Fax: 585.546.7218
About Peter
OVERVIEW
"We don't sell a product. We provide a service, and prompt attention to my clients helps set me apart."
When I was a senior at Allendale Columbia School, I took a class on Constitutional Law that was taught by a former attorney. I enjoyed the open format of the curriculum and his use of the Socratic Method teaching style.I was immediately captivated by the discussions with my classmates, as we reached different conclusions to the open-ended questions posed to our class. After that class, I knew that a career in law was a perfect fit for me.
The role of partner involves supervision of other attorneys and staff. I enjoy the role of guiding and educating my colleagues as we advocate for our clients.
Professional Background
To never leave someone behind is a sentiment that we collectively respect, but often fall short of living up to. For Peter, who was inspired by John McCain's refusal to leave a prisoner of war behind, this is something he tries to emulate with each of his clients. There is a desperation to some of his clients and a need to be understood that often goes overlooked by other attorneys and the world at large. Peter would rather not abandon those people who come to MCCM for legal guidance. Peter would rather help them.
In his legal toolbox, Peter employs swift communication. Long periods of radio silence often make clients feel ignored, and in Peter's effort to uplift this population, he makes sure to respond to his clients and make them feel heard. This is how Peter has gained the trust of his clients. By guiding them through every step of their personal legal journey and providing advice and options, he instills confidence and trust.
EXPERIENCE
Peter represents individuals, businesses and other organizations in all phases of litigation before state and federal courts, from pre-suit investigation and arbitration, through discovery and trial. He regularly handles collections and commercial litigation, and collaborates with colleagues on advising businesses of all sizes. His personal injury experience includes advising clients who have been injured or lost loved ones in accidents caused by the carelessness or recklessness of others. He also counsels on real estate matters including purchase and sale transactions, financing, leasing, and related disputes.
HONORS & AWARDS
Peter is currently on a nine-year streak, having been named a Super Lawyers "Rising Star" every year beginning in 2013. Super Lawyers recognizes outstanding lawyers from more than 70 practice areas who have attained a high degree of peer recognition and professional achievement. Fewer than 2.5 percent of the attorneys in New York each year are given this honor.
Admitted to practice for only two years at the time, Peter was honored among The Daily Record's 2013 Up & Coming Attorneys. The Up & Coming Attorneys award recognizes professional accomplishment, community service, and a strong commitment to the legal profession early in an attorney's career.
In 2020, he was honored with a Rochester Business Journal "Forty Under 40" award for individuals who are not only achieving success in their careers but giving back in meaningful ways to the Rochester community.
In 2022, Peter was named to The Daily Record's "Power 20 Personal Injury" list of top personal injury attorneys in Western New York.
ADMISSIONS
New York State Bar (2011)
S. District Court, Western District of New York (2011)
S. Bankruptcy Court, Western District of New York (2012)
S. District Court, Western District of New York (2011)
EDUCATION
Albany Law School of Union University (J.D., 2010)
Hobart College (B.A., with Honors, 2007)
PROFESSIONAL AFFILIATIONS
Monroe County Bar Association: Litigation Section, Real Estate Section
New York State Bar Association: Trial Lawyers Section
New York State Academy of Trial Lawyers
Penfield Business Chamber
Greater Rochester Chamber of Commerce
Small Business Council of Rochester, Board of Directors
COMMUNITY INVOLVEMENT
Peter served as a member of the Board of Trustees and as President of the Alumni Association Board of Allendale Columbia School, a leading independent, co-ed, college prep school for students in nursery through grade 12. He is also a member of the Advisory Board for the School's Summer LEAP program, a partnership with School 17 of the Rochester City School District. The initiative provides low-income students entering first through fourth grade with quality summer learning opportunities, aimed at raising reading and math grades and increasing graduation rates.
Peter is a former member of the Board of Trustees for Quad A for Kids, an organization that offers programs for the City of Rochester's youth outside of school hours in a safe environment with caring adults. He previously served on the Planning Committee for RocCity Rising. Peter also regularly volunteers with community organizations such as Foodlink, and he was selected as a Varsity Volunteer by Camp Good Days & Special Times.
He currently serves as a member of the Board of Governors for the Genesee Valley Club. He also serves on the Advisory Council for the Emerging Leaders Society of the United Way of Greater Rochester and the Finger Lakes, which is comprised of hundreds of the region's most inspiring, proactive emerging leaders who are dedicated to making a positive local impact with their investments. Peter also volunteers on the Board of Directors for the Small Business Council of Rochester, an affiliate of the Greater Rochester Chamber of Commerce.
SPEAKING ENGAGEMENTS & PUBLICATIONS
Peter regularly lectures on the topics of mediation and alternative dispute resolution at a Management and Behavior in Organizations class for the Nazareth College School of Management graduate program. He also presented web conferences to local chambers of commerce on COVID-19 and liability concerns for businesses.
Personal
A native of Webster, Peter graduated with Honors from Hobart College where he earned a degree in political science. He went on to graduate from Albany Law School, where he clerked for a well-respected litigation firm located in New York's Capital District. He currently resides in Pittsford. Away from the office, Peter enjoys spending time with his wife, Kaleigh, and their two daughters. He remains an eternal optimist for the Buffalo Bills.