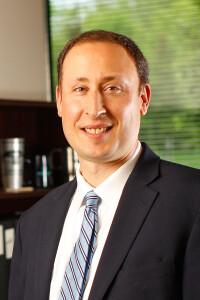 Daniel S. Williford
Partner
Main Fax: 585.546.7218
About Daniel
OVERVIEW
"Treat everyone you encounter in life with respect, generosity and kindness regardless of the circumstances."
Legal matters are not always easy and timely, but the people at MCCM provide professional and convenient service that will meet your needs. Our goal is for clients to be a part of our family at MCCM. I am a member of a team of like-minded individuals who want to provide the best service possible to our clients.
Professional Background
Family values inspired Dan to help others. Dan's parents instilled in him a work ethic, to sacrifice for others, and how to create meaningful relationships, personally and professionally; skills that Dan brings to MCCM as he works with his clients and understands the journey of what brought them to his office.
Dan wants to make it easy. Many clients come to him with complicated legal questions and his goal is to make them feel less overwhelmed by the process. Part of that is being responsive. He wants his clients to know that he is listening and is able to impart onto them some sense of clarity and professionalism so they know they are in good hands.
Not only does Dan treat his clients with respect, but he believes everyone is deserving of that same courtesy.
EXPERIENCE
Dan focuses on assisting individuals and families to transfer, preserve, and distribute their assets in accordance with their wishes. His practice includes:
Estate planning
Estate administration
Drafting wills, trusts, health care proxies and durable powers of attorney
Related Elder Law matters such as planning for nursing home costs and Medicaid eligibility, and
Estate litigation
Prior to joining the firm, Dan advocated for victims of various crimes as an Assistant District Attorney at the Monroe County District Attorney's Office.
HONORS & AWARDS
Named to Upstate New York Super Lawyers® "Rising Stars" List
The Daily Record's Excellence in Law Up & Coming Attorneys Award, 2017
Named to Daily Record's Power 20 list for Trust and Estates Attorneys
ADMISSIONS
New York State Bar (2010)
EDUCATION
University of Iowa College of Law (LL.M., 2012)
Syracuse University College of Law (J.D., 2009)
Roger Williams University (M.S., 2007)
University of Rochester (B.A., 2004)
PROFESSIONAL AFFILIATIONS
Member:
Monroe County Bar Association

Trusts and Estate Council

New York State Bar Association
Estate Planning Council of Rochester
Greater Rochester Area Partnership for the Elderly (GRAPE)
Professional Eldercare Network (PEN)
COMMUNITY INVOLVEMENT
Al Sigl Sports Committee
Perinton-Fairport Chamber of Commerce Board Member
SPEAKING ENGAGEMENTS & PUBLICATIONS
Dan has spoken regularly at healthcare facilities and community meetings in person and via videoconference regarding estate planning and elder law.
Personal
Dan is a native of Rochester, having graduated from Pittsford Sutherland High School and the U of R. Dan, his wife Stephanie, and their children Conor, Chase and Rae live in Pittsford Village with their many pets. As an All American tennis player at the U of R, Dan enjoys playing as much tennis in the summer, paddle tennis in the winter, and running in as many road races, as possible. The Williford family is from Schroon Lake, located in the Adirondack Mountains, where Dan enjoys hiking, snowshoeing, and skiing.