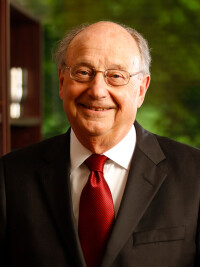 Joseph A. Platania
Counsel
Main Fax: 585.546.7218
About Joseph
OVERVIEW
"A sense of humor and compassion are essential in counseling clients."
Professional Background
Joe began his career with the Corporation Counsel's Office of the City of Rochester and the Monroe County Department of Law, where his legal representation involved Urban Renewal purchase negotiations, condemnation takings and valuation trials, defense of civil claims against the City, labor negotiations, and appointment as a Monroe County prosecutor of juveniles in Family Court under a Federal grant.
Following those initial years in municipal law practice, Joe has been in private practice engaged in estate planning and estate and trust administration, commercial tax assessments, real estate purchase/sales, financing, formation of general and limited partnerships and limited liability companies, land use development, and municipal approval applications. Joe has also served as counsel to the Town of Penfield's planning and zoning boards, and general counsel to several area fire districts.
In 2004, Joe joined MCCM as counsel where he has benefited from the association with an experienced legal and support staff to assist him in the servicing of his myriad of clients across Western New York.
EXPERIENCE
Joe's deep experience across diverse areas of the law enables him to advise clients who are planning for the distribution of their assets in accordance with their wishes or who require legal assistance in all areas of:
estate and trust planning and administration;
business succession planning for closely held and family-owned enterprises;
general corporate matters including asset sales and purchases, entity formations and dissolution;
commercial and residential real estate transfers and leasing; and
land use development, finance and municipal matters.
ADMISSIONS
New York State Bar (1968)
U.S. District Court, Western District of New York (1975)
U.S. Tax Court (1975)
U.S. Supreme Court (1976)
EDUCATION
State University of New York at Buffalo (J.D., 1968)
LeMoyne College (B.S., 1965)
McQuaid Jesuit High School (1961)
PROFESSIONAL AFFILIATIONS
Joe is a member of the Monroe County Bar Association and the New York State Bar Association's Trusts and Estates Section. He has served as an arbitrator for the Monroe County Bar Association, on the Bar Association's Judiciary Committee, and as Chairperson of the Monroe County Board of Ethics.
Personal
Joe and his wife, Maryann, live in Penfield and have two grown children and three grandchildren. Maryann, a nurse by education and training, is a hospice volunteer at The Shepherd Home in Penfield. Their daughter, Bridget, is a pediatric nurse practitioner in Rochester and their son, Joe, serves as the Commonwealth's Attorney in Charlottesville, Virginia. Joe enjoys spending time at his camp on the St. Lawrence River and with his grandchildren in Virginia and Rochester.