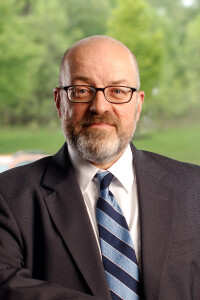 Peter J. Weishaar
Managing Partner
Main Fax: 585.546.7218
About Peter
OVERVIEW
"The best part about being a litigator is that we get to tell our clients' stories."
Practicing law is sometimes like solving a difficult puzzle. I enjoy finding key facts or just the right case or theme so that we can present the client's story in a compelling, persuasive fashion. I care about my clients' outcomes and find it most rewarding when I am able to distill complex topics down to simple, understandable language that we can use to tell our story."
Professional Background
Peter joined the firm in 1996, primarily practicing litigation. Most of his litigation practice today is focused on disputes between business owners and defense of employment claims. His favorite type of case involves defense of employees (and their new employers) accused of violating non-compete agreements. Peter has explained, "Even though we are typically the underdog in these fights, we often have the law on our side and can argue that the agreements are overbroad and unenforceable as written."
Over time, Peter's practice has evolved. He still handles a wide variety of business litigation. A significant part of his practice now includes land use and zoning matters. He represents planning and zoning boards—some on an ongoing basis and others on a special counsel basis. He also represents developers and applicants, as well as neighbors opposed to developments. His litigation background enables him to handle these matters from the initial appearance before the relevant board, all the way through the conclusion of a judicial review proceeding.
Aside from representing planning and zoning boards, Peter's municipal practice also includes representation of towns, fire districts and other local governments. He also defends municipalities in tax assessment litigation.
EXPERIENCE
Our clients are often individuals, closely-held businesses, or members of a local government board representing the community where they live—people who have a real stake in the outcome of what we're doing. Some of the cases Peter has handled over the years are summarized below:
Successfully opposed motion for preliminary injunction seeking to enforce non-compete against former employer who went to work for competitor. Case later settled on terms favorable to our client.
Awarded summary judgment in Surrogate's Court on behalf of minority shareholder requiring estate of majority shareholder to sell shares in corporation owned at the time of death using the valuation methodology set forth in the shareholders agreement.
Obtained judgment following a bench trial, dismissing claims made against a medical practice by a former physician-shareholder who claimed to have been underpaid pursuant to a compensation formula in the physician's employment agreement with the practice. The judgment was upheld on appeal.
After being appointed special litigation counsel to defend a planning board against claims made by a community opposition group as well as cross-claims made by the municipality's legislative body in a judicial review proceeding (referred to as an Article 78 Proceeding) seeking to overturn the planning board's final site plan approval for a large mixed use project, Peter successfully obtained judgment dismissing all claims, including claims asserted under the Open Meetings Law. This proceeding included several motions, discovery, and an evidentiary hearing.
After being appointed pro bono to represent a prisoner in a pending civil rights case, Peter obtained a verdict in favor of his client against two corrections officers. The jury determined that the defendants violated the client's Eighth Amendment rights by failing to protect him from a violent assault by another inmate.
Peter has provided general counsel to a number of municipal entities, including fire districts. Some of his notable work in this area of law is summarized below:
Peter is a frequent member of the "Attorneys Panel" at state-wide gatherings of the Association of Fire Districts of the State of New York.
He also teaches the state-mandated commissioner training course throughout Western New York on behalf of the Association of Fire Districts of the State of New York.
Peter represented one of the component fire districts that was consolidated into a new fire district under the New York Government Reorganization and Citizen Empowerment Act. We believe this is the first combination of two fire districts with career firefighters under the Act.
HONORS & AWARDS
Peter has been recognized by his peers and the local media for his practice.
AV Preeminent® Peer Review Rated by Martindale-Hubbell. This is the highest peer rating standard given to attorneys by Martindale-Hubbell. This rating is given to attorneys who are ranked at the highest level of professional excellence for their legal expertise, communication skills, and ethical standards by their peers.
Selected to The Best Lawyers in America®, Commercial Litigation, Land Use and Zoning Law, and Municipal Law. Recognition by Best Lawyers is based on a peer review process.
Selected to the Upstate New York Super Lawyers list. Super Lawyers is a rating service of outstanding lawyers based on peer nominations, independent research and peer evaluations.
The Rochester Business Journal's "Power 50 Law List" 2022
The Daily Record's "Power 20 Labor and Employment List" for 2023
The Daily Record's "Power 20 Litigation List" for 2021 and 2022
The Daily Record's Attorneys of the Year Leader In Law Award, 2015
ADMISSIONS
New York State Bar (1996)
U.S. District Court, Western District of New York (1996)
U.S. Court of Appeals, Second Circuit (1999)
U.S. Court of Federal Claims (2001)
U.S. Bankruptcy Court, Western District of New York (2004)
EDUCATION
Albany Law School (J.D., cum laude, 1995)

Albany Law Review: Member, Editorial Board; Note & Comment Editor; Author, "School Choice Vouchers and the Establishment Clause." 58 Alb. L. Rev. 543 (1994)

State University College at Geneseo (B.A., cum laude, 1992)
PROFESSIONAL AFFILIATIONS
American Bar Association: Law Practice Division, Litigation Section, Law Practice Management Section
New York State Bar Association: Commercial & Federal Litigation Section, Labor & Employment Law Section, Local & State Government Law Section
New York State Academy of Trial Lawyers
Monroe County Bar Association: Litigation Section, Judiciary Committee (2009-2015), Professional Performance Committee (2002-2003, 2005-2015), Nominating Committee (2002, 2003), Young Lawyers Section (Chair, 2000-2001), Academy of Law Board Member (1999-2000), Academy of Law Executive Board Member (1999-2000)
COMMUNITY INVOLVEMENT
Synod of the Northeast Permanent Judicial Commission - Presbyterian Church (USA) (2021-present)
Third Presbyterian Church: Ruling Elder – Member of Session (2013-2016), President, Board of Trustees (2008-2009), Member, Board of Trustees (2006-2009), Personnel Committee (2013-2019), Property Committee (2006-2009)
Penfield Business Association: Vice President (2008), Board of Directors (2007-2008)
SUNY Geneseo: Legal Studies Award Advisory Council, Rochester Advocate
Heart and Seoul Korean Culture Camp: Member, Planning Team (2014 – 2020)
Camp Chin-gu: Planning Team/Volunteer Coordinator (2011-2013)
SPEAKING ENGAGEMENTS & PUBLICATIONS
Peter is a frequent a member of the "Attorneys Panel" at state-wide gatherings of the Association of Fire Districts of the State of New York. He also teaches the state-mandated commissioner training course throughout Western New York on behalf of the Association.
He has also taught continuing legal education courses and presented to other professionals covering topics ranging from land use and zoning law to negotiating physician employment contracts.
Peter writes an engaging and informative law blog, the Rochester Law Review, covering legal developments, cases of interest, and significant events in all key areas of his practice.
Personal
A Rochester native, Peter resides in Penfield with his wife and two children. Most of his spare time is spent watching his children play sports in and around Rochester, or driving them to their next activity.
He also enjoys Taekwondo, mountain biking and hiking with his family.
Peter recently became a Second Degree Black Belt. He and his daughter are continuing their training at Master Kim's Taekwondo Institute.
Although he has only climbed 24 of the Adirondack High Peaks, his goal is to eventually climb all 46 peaks. This may take a long time now that he has re-started his quest with his children.